Dallas Mold Remediation Steps for Clothing and Textiles
11/29/2016 (Permalink)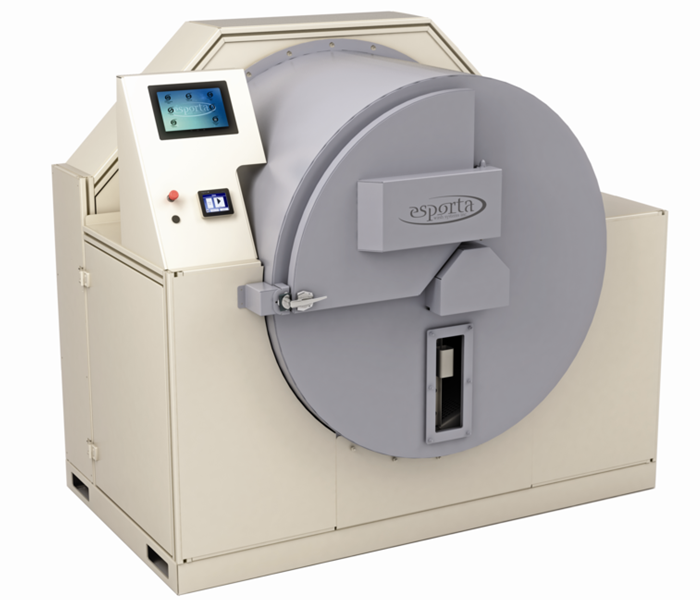 Our Esporta Wash System can remove mold growth from up to 85% of all soft contents and restore them to food-grade safe quality.
What Are Textiles?
Picture your home being flipped upside down. Everything that is not attached to the house itself will fall down. Those items that fall are called contents. Now imagine going through all those fallen items and sorting them by what broke versus what did not break. The items that did not break are most likely textiles. Another name for textiles is soft contents.
Textiles include items like:
Sheets
Blankets
Shoes
Clothing
Stuffed animals
Toys
Sports equipment, including helmets
Hats
Mold can grow on textiles the same way it can grow on walls and floors. Often, mold infested textiles are thrown away, even if they have a high sentimental value like a baby blanket.
Moldy textiles don't have to be thrown away. Most of the time, these items are restorable -- with the right process.
We take all of these kinds of items from your property and get them ready for a specialized sanitation wash in a machine called the Esporta. We are one of the few Esporta certified businesses in North Texas, and our technicians have successfully cleaned over 100,000 items that otherwise would have been thrown away.
Our success rate is over 85% -- among the highest in the textile restoration industry!
Proper Mold Remediation Steps for Clothing
Step 1: Move Out Services
Most of the time, we handle mold infested clothing after a water damage or flood damage. In these cases, the water damage was either not remediated correctly or was left untreated for too long.
Mold begins to grow after only 48 hours, and we commonly find affected textiles in closets or where they got wet and were not picked up on time.
While mold will eventually damage any surface it's on (it will eat through it), the majority of clothing we find are still salvageable.
All soft contents that are covered in mold are inventoried on your property. Afterward, they are bagged and brought back to our Dallas mold remediation cleaning center.
Step 2: Inventory and Sorting
Back at our cleaning facilities, our Esporta technicians take a second inventory of your items to make sure nothing was lost in transit. We present this inventory to your insurance company and work with your insurance adjuster to get your soft contents claim approved for cleaning. Our technicians also sort the textiles by category and fiber to prepare it for the wash.
Step 3: Washing and Sanitizing
Contents are washed in our Esporta Wash System. Our machine looks like a huge laundry machine, but it has different compartments inside. We will place your clothing in one of these compartments and tell the machine what kind of cycle to run.
After we shut the door, the bottom half of the machine fills up with water that gets mixed with up to six different detergents. Then, the machine's compartments start to spin rapidly.
While your clothing is locked into place and doesn't move at all, the hydraulic pressure created by the spinning literally pushes the detergent laden water through every single layer of fabric in your comforter. This movement causes over 99% of contaminants to be pushed out.
The lack of agitation inside the machine means your comforter stays in its position and is not rubbed or twisted. This process makes it a lot more gentle on its fabrics.
One of the best aspects of the machine is that the clothing that comes out of the wash are food grade clean and near pH neutral. Our detergents are environmentally friendly and safe for your skin.
After the wash is complete, the soft contents enter our drying room where the humidity level is monitored. No other contents are allowed inside to avoid cross contamination.
Step 5: Storage and Return
After being dried, your clothing and textiles go through a finishing process. Like dry cleaners, we will press your clothing, hang it, and wrap it in plastic to keep dust away. If we have other soft contents that are not clothes, they are carefully wrapped and packaged in boxes.
If long term storage is required, we place all contents into moving or wardrobe boxes and place them in air conditioned storage. Your soft contents can remain with us as long as you need them to.
If no storage is needed, the contents are returned to you at your convenience.
Does my insurance cover mold remediation?
Your insurance policy is a private document between you and your insurance company. The Job File Coordinator assigned to you can ask your insurance agent for guidance, but we do not have direct access to your policy. We understand that knowing what is covered is important in knowing how to proceed with your claim. We will do all we can to help.
What different types of mold can you remove?
We can remove all types of mold from your clothing.
Mold Removal Dallas
We have a Texas Mold Remediation Contractor license and have helped many homes and businesses remove mold growth of all sizes. We offer free mold inspections and bids. Call us any time if you need any type of Dallas mold removal services.
Trusted Leader in Mold Remediation, Dallas Texas
SERVPRO of North Irving is a water damage restoration and fire and smoke damage restoration company in Dallas, Texas. We have performed work in the Dallas community for over 30 years. With our crews responding immediately to jobs, we are faster to any size disaster. We also have a Texas Mold Remediation Contractor License and offer free mold inspections. You can trust us to restore your home or business.
Our crews are available dispatch for 24 hour emergencies every day of the year. We can be reached 24/7 at (972) 986-7677. Call us any time!
"Like it never even happened," only happens here.