Emergency Preparedness Documents to Have Ready in Your Dallas Home
6/7/2018 (Permalink)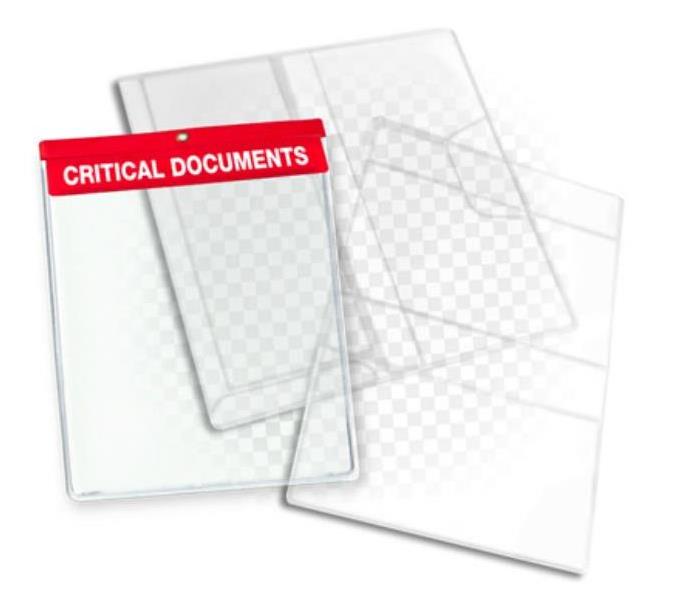 Carrying the right emergency preparedness documents during a natural disaster is necessary. (Photo credit RNR Plastics)
Emergency Preparedness Documents For Natural Disasters
During a disaster situation such as a hurricane, a document bag is an important part of your emergency preparedness kit. You may find you'll need these documents if you are sheltering in place or evacuating.
Whether you are sheltering in place in a storm shelter or evacuating, keep these documents on you. We recommend you place them in a waterproof sealable, plastic bag.
Emergency Preparedness Kit - Documentation
Document Bag
Current photo ID for all members of your group
Birth certificates
Social security cards
Passports
Photos of all members of your group, including pets
Health insurance cards and prescriptions
Medical records, such as medications and dosages
Phone numbers (written on paper) for family, friends, doctors
Bank account information and loan documents
Insurance documents for:

Home insurance
Renters insurance
Flood insurance
Car insurance

Property documentation (leases, mortgages)
Vehicle titles
Home inventory of household possessions and their value
Backup computer files on a USB drive
Copies of keys (home, vehicle, safes)
Utility bills to prove where you live
Emergency Preparedness Plan
When you are preparing for an incoming storm and your preparedness plan needs to take into account the possibility of evacuation or your entire home being affected, there are other things in need of consideration to be prepared.
1. DIY First Aid Kit
A first aid kit does not need to be fancy or bought in the store. If you want to make one yourself, buy what goes inside in bulk and resupply as you need. We recommend you place your first aid kit items in a waterproof container like a plastic box or bag.
We recommend building a DIY kit for your home and each vehicle you own.
An inventory of your household items is one of the important documents we recommend you carry with you. While the idea of doing your own home inventory may sound silly (after all, you know what's in your own home!), it's one of the important pieces of documentation in the event of a serious disaster, like a fire or tornado.
A home inventory helps prove to your insurance company what items were in your home that are now either too burnt to identify or have disappeared if your home was damaged. When it comes time to estimate replacement costs, only you can prove how much your items were worth.
3. Family Communications Plan During Natural Disasters
If a serious emergency happens in your area, your family may be separated. Having a family communications plan in place can help everyone meet in a safe location after the storm. Don't depend on phone lines to work consistently during events like these.
This is a kit made with a hurricane situation in mind. The needs for a hurricane are slightly different than other storms.
Full Service Disaster Restoration Company in Dallas
No matter what happens, we're here for you.
Our goal is to make your life simple. We want you to get back into your home or business as soon as possible and move on with your life. We take our slogan, "Like it never even happened," to heart.
The restoration industry involves so many facets. Every customer is different and so are the circumstances of their disaster. It's difficult for one business to take on every portion of a project, and that's why many restoration companies choose to specialize and find a comfortable niche.
We've been serving homes and businesses in Dallas for over 30 years, and we've learned a lot in that time. We've taken time to become a full service restoration contractor because it's the best option for our customers. We are people's one call and done.
We offer:
Dallas Water Damage Restoration
Dallas Fire Damage Restoration
Trusted Leader in Water Damage Restoration and Fire Damage Restoration in Dallas Texas
SERVPRO of North Irving is a water damage restoration and fire and smoke damage restoration company in Dallas Texas. We have performed work in the Dallas community for over 30 years. With our crews responding immediately to jobs, we are faster to any size disaster. We also have a Texas Mold Remediation Contractor License and offer free mold inspections. You can trust us to restore your home or business.
Our crews are available dispatch for 24 hour emergencies every day of the year. We can be reached 24/7 at (972) 986-7677. Call us any time!
"Like it never even happened," only happens here.
Source: Texas Hurricane Center