How to Prevent Mold from Growing or Spreading in Dallas
9/30/2019 (Permalink)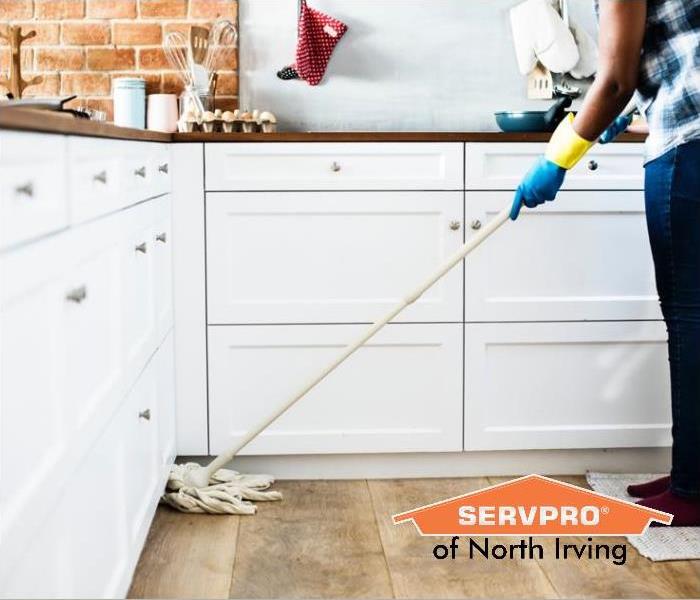 Ugh — mold. Outside of eating fancy blue cheese, there aren't many instances where it's welcomed with open arms.
Of course, this isn't to say that when you're faced with a mold situation, it's the end of the world. While it does take some effort to remove mold from clothes, carpet, upholstery, drywall, and other items, it's a manageable process (a professional mold remediation firm like SERVPRO of Dallas can offer assistance with this). However, undoubtedly, you're not hoping to find yourself in this position. Luckily, there are numerous preventative strategies that can help you steer clear of a mold problem.
Keep An Eye Out
Awareness is key! It's a good idea to regularly check a home or structure for evidence of leaks and mold. Several areas tend to be culprits:
Roof
Ceiling
Walls
Pipes
Plumbing fixtures and leaky appliances
Poorly sealed windows, doors, showers, and tubs
Foundation problems
If you notice water stains or splotches of mold growth, it should be addressed immediately. Obviously, if there is visible water seepage or damage, you should fix the source of the leak right away so it doesn't encourage mold growth. If signs of mold are present (i.e. musty smells, significant condensation/dampness, or fuzzy patches of black, blue, green, white, or yellow), you may need a mold inspection. Mold can turn up in spaces that are invisible to the naked eye.
Ensure There Is Proper Ventilation and Air Flow
Where there's moisture, mold finds a way. Many areas require proper ventilation including
bathrooms, kitchens, basements, crawl spaces, and laundry rooms. It's important to note that this isn't an exhaustive list. Really, mold enjoys moisture in any setting. If you notice any water stains or condensation where there shouldn't be, it's an indication there's a moisture issue.
A solution is to utilize ventilation fans in high-moisture areas. The capacity of these fans is measured in cubic feet per minute (CFM). For instance, a fan for a small bathroom should operate at one CFM for every square foot of space. The Home Ventilating Institute is an excellent source for fan guidelines.
Moreover, you can facilitate airflow throughout a building or home. This helps cut down on moisture. When it's possible, open your windows to allow fresh air inside. Also, try keeping your closet and bedroom doors open. And, leaving some space between your walls and furniture can promote better air circulation.
If you should find a humid environment has caused mold growth on your belongings, it may be time to call in an expert. In many situations, there are specific processes to remove mold from clothing and other items.
Understand And Control Humidity Levels
Taking ventilation and airflow a step further, it's wise to monitor the humidity level. Generally speaking, you want to keep humidity at around 30 to 50 percent. Moisture meters can give you a reading of the moisture content in various materials. These devices are available for purchase at your local home improvement store.
To better control humidity, It may be worth your while to invest in dehumidifiers. Plus, it's not a bad idea to couple dehumidification with air filtration. An air purifier with HEPA filter works well for cleaning the air and removing some airborne mold spores.
Keep Everything Clean And In Working Order
Not too hard, right? If you keep your home or business tidy, it can help reduce the chance of mold growth. When there are conditions that mold likes, it can start growing in 24 hours! Fortunately, there are some simple steps for battling a potential mold invasion:
Fix leaks as soon as possible
In high-moisture areas, keep all surfaces clean and dry
Make sure water is drawn away from the building structure (the ground slopes away from the foundation)
Clean and dry shower and tub walls with a squeegee
Re-caulk and re-seal plumbing fixtures when necessary
Dry out wet materials as soon as possible (towels, mats, rugs, loofahs, etc.)
Inspect your roof and crawl spaces at least twice a year
Clean downspouts and gutter guards
Check houseplants for mold
Also, if you have wet clothing, don't let it sit in an enclosed space. You don't want items to become a breeding ground for bacteria and fungus. As touched upon earlier, it is possible to remove mold from clothes; however, you may not want to experience what happens before that point. You could end up dealing with anything from fabric discoloration to skin and breathing problems.
Prevent Mold In The Refrigerator
It happens to the best of us. We forget about the leftovers shoved in the corner of the refrigerator until a gross discovery — a once delicious meal has turned into a moldy mess.
Certainly, we're not saying that food mold is always dangerous. However, given the transient and airborne nature of mold spores, it can cause further problems like mold growth in other parts of the refrigerator. Additionally, spores can also travel into your respiratory system and cause irritation.
If you find moldy food items, don't open the container. Place the items in a sealed bag and discard it as soon as possible. As far as fresh food, try to always store it in a sealed container.
Also, surely, you've heard the old trick of placing an open box of baking soda in the fridge. This is still a viable preventative measure. The pH composition of baking soda is such that mold is unable to thrive. It helps clean air as it moves through the appliance.
When Mold Has Already Invaded Your Dallas Home
If you got to this article a bit too late and you fear you're in the midst of a mold intrusion, don't worry. There's support out there!
When you entrust a licensed mold company like SERVPRO to perform remediation services, you can feel rest assured that the job will get done quickly and correctly. Our IICRC certified technicians use the latest technologies and processes to properly treat mold. Furthermore, our firm is the only SERVPRO in Dallas who is certified to use the Esporta Wash System, the leader in textile restoration.
If you're in the Dallas area, you never have to battle mold on your own! SERVPRO is a full-service firm and can handle anything from removing mold from clothes to tearing out and rebuilding mold-infected parts of a structure. Contact SERVPRO of North Irving to learn more!